Thursday, November 05, 2009
finally im back!! hehe
..
kamusta ang lahat??
..
i mizz dis blogging thing..
well sembrk nnmn! and i fil so bored..
more FB and PLurk lng me all dis time.. hmmmmmmmmmmmmmm

Labels: so bored
Posted by inah at 3:18 PM

|

Wednesday, December 24, 2008

Friday, November 14, 2008
A FATHER IS WHAT I NEED

Can you imagine a home without a mother to serve as its light? Without a children to spread happiness to both of they're parents? And without a father to serve as the foundation of the family? Indeed, a house is not a home when someone is missing. And so now, I can say that a part of me still seeks for something… for someone.
I can still remember the first time I asked my mom about my father… I was four years old then. She started telling me that sad part of her life with tears on her eyes. I can actually still recall how and when she whispered this few words… "Anak matagal na tayong iniwan ng tatay mo.", then continued her story with my father's life before. She told me that my father was a good man and even if he had been termed by one of her 3 sisters as the black-sheep of their family… it will never be a make believe for my mom. She also told me that my father was an engineer before and told me that whenever she sees my father's wallet with lots of money with it, she always took it and seeks for a nearest shopping area or a grocery store. How I wish, his still alive so that I can do the same thing…* joke!* And its really funny how she looks at my father's picture then glance at me for a while. She's smiling all the time when she's telling me that I actually have my pop's jaw, skin complexion, face, chickbone and even attitude… "like late Eleno", she said. And the last thing I know, I already fell asleep.
It's been 19 years since my father died but the feeling still wont go away. I am still seeking for my father's image which I don't even had the chance. He died when I was days old and I really feel that GOD really never wanted me to see him nor to be with him long enough. Call me nonsense, but I am really longing for a fathers touch! moreover… for a fathers love. Obviously, my family isn't like others family where-in they have their father, mother and siblings with them. And that's the reason why I am really very jealous to those who have their family members complete. And feel sorry to some who doesn't even feel lucky being and having someone like their pop and mom with them.
Life is unfair… and it will always be! Often times, you'll never able to have the things which you actually wanted the most and longing for while others just throwing it off. Lucky you… to have both of your parents with you and sorry for me… to grew up with my brother and mother alone.
And before I end up this speech of mine… let me tell you a short and meaningful statement, "Never ever let every second, minute nor day to pass without even saying THANK YOU and I LOVE YOU to your parents, cause you'll never know when will be their time to go."
Labels: da missing part of me
Posted by inah at 4:57 PM

|

Monday, July 21, 2008
"DUTY MOMENTZ"
i just love my grupmatez!!
up-bottom:
richelle ortiz
marjorie maralit
paula ramos
gretchen reyes
Ma.Elena Robles ( datz me! )
jose nepumuceno
lady navarro
other group members (missing in that pic! hehe)
tiffany pacifico
clarissa manalili
nilo martinez

Labels: HUH?
Posted by inah at 11:25 PM

|

Saturday, May 31, 2008
"My Pride and Glory"
well yes! such a wonderful feeling, whenever i see this collection of mine..

hope..
i could have more..
cause its rily a satisfaction for me..
Labels: its mine
Posted by inah at 5:38 PM

|

"What's w/ FRUITAS That I Just Cant Resist it?"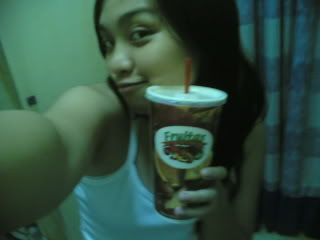 fruitas is definetly one of the stuffs w/c i really cant resist!
i love its natural taste.. and i prefer the mango flavor..
kinda feel relaxed whenever i have it..
and even if it costs around, 55 pesos for every large size of it..
i still dont care!!
i just love it and i will alwayz will.... haha!! :)
so common guys! taste its one of a kind flavah!!
Labels: im addicted to this
Posted by inah at 5:29 PM

|

Wednesday, May 14, 2008

What Do You Prefer?
I am now stuck in the world which I didnt even thought I could be.. Stuck in the field of Nursing which is far away from what I really wanted to be..
Specializing in injecting syringes.. Mastering different bed positioning.. Excelling to the kinds of special procedures.. Calculating for the right dosage of medicines.. and above anything else, giving "TLC" whithout why's, how's and but's.. And that what makes a good Nursing student!

Oh yes, i may say I am excelling in what my family chosed for me to be.. but the question is.. Am I ENJOYING IT??
Well, as what i have said a while ago.. this is not the field which i really wanted the most! Not the world which I am expecting to have on the near future.. But then I guess.. I just have to pursue this, due to the fact, that I have no other choice. Its like.... "i will or i'll stop!". Guess, I just I have to wait for everything to be OK! for everything to flow the way I want it to be.. HOPE there will still be a chance for me to pursue the course which I really wanted ever since! to be specialized in Broadcasting.. to be one of the few master anchor.. to excel in the world of giving news.. to calculate for the right flavor of info's.. and above all.......... to give the hottest and the latest news around the world! Guess.. that makes a real BROADCASTER!!


Labels: am i enjoying it
Posted by inah at 10:38 PM

|

Saturday, May 10, 2008
betterfriend jochelle..
and me.....
oh well.. after tking up r midterm exam..
we finally decided to go out and spend some time tgether!
r first stop was at Baclaran Church, den MOA..
we do rily hve a lot of fun
with each oder's company..
i may say that we trully are comfrtble w/ each oder than before..
tnx to all the trials dat had challged r frndship..
and to all the burden that we had overcome!
gues..
its all worth a while and worth a try..
i love you guys!!
BETTER FRIENDS TIL DEATH..
P.S.
"kip this in mind.."
ALL GOOD THINGS MUST NOT COME TO AN END!.
Labels: we made it
Posted by inah at 5:45 AM

|

Thursday, May 08, 2008
Posted by inah at 3:15 PM

|

Tuesday, April 29, 2008
"better friends"
never been heard huh?
i bet it is!
coz wer naturally one of a kind fellas!
haha!
..
kindah puzzle of how we luk like?
hirs r pic..
.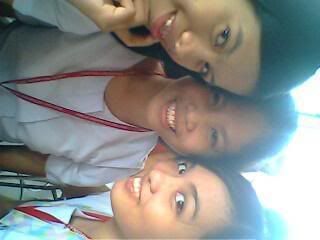 "I can tell you!! this friendship actually gone through HEAVEN and HELL...."
i can still remember when this group of friends were strting, and i guess.. its been almost 2years from now..
well, hirs the story:
..
This group of friends actually strted from 6 different individuals namely.. Jochelle, Arrianne, Joll, Elena(dats me!), Mark and Michael.. w/c we called "JAJEMM".. I trully witnessed how happy we were during those days, how we.. shared jokes........... how we..act so lamely...............and how we support each other..
But then, incidence and time had challenged us! (guess ol kinds of friends came to this point that one must be tested..) I quite remember when one simple issue resulted to a DISASTER! I had witnessed all the pain that this little issue had brought us! But among the 6 persons who were involved in this matter, I may say that this 3 people above, were the most affected by that thing, to the point that we actually had an emotional breakdown during those time!
But then, personally? I may say that i was the most affected by that! i can hardly recall the times when all I wanna do is to cry and to eat my heart out! Call me STUPID , but this is me.. Im not used of handling situations regarding my friends.. and guess "I AM WEAK".. to weak to face problems and to weak to face the truth......... that, sooner or later, i will be left alone.. :'(..
Labels: no one cud brk us apart
Posted by inah at 3:35 AM

|

say NO to RICE!!
.
.
ladies nd gentlemen.. let us all join forces on avoiding RICE!
coz, personally? i dont fil like eating it! and as a mater of fact.. i stop eating rice when i was on my 1styr highschool,(now, im on my 3rdyr college), and it doesnt give any negative effects at all..
i do blieve dat we can still be able to survive and stil be able to gain enrgy w/o this kind of carbo.
how??
due to the fact that there are still more alternative foods that can still provide us the things that a rice can actually do!
e.g.

(sweet potatoes, potatoes, bread, biscuits, cupcakes etc.)
.
.
think about it!
dont waste ur money on buying rice w/c actualy ranges from

34 pesos-45 pesos

if u can, eat an altenative kind of carbo. w/c is practically more cheaper than RICE!
"so y spend more if u can spend less!!"
Labels: no to expensive rice
Posted by inah at 2:25 AM

|

Monday, April 28, 2008
"Why Do Things Have to be Like This?"
.
.
---->

we must not just expect for the good side of things..
one should take note of its bad outcome as well..

<----
..
..
that's one of the thoughts that i hve learn for today!
u may say,
that i dont luk problematic at all..
but honestly?
I REALY AM!!
and y is it so??
well..
its too confidential......................
just pray for me guys!!
coz, im strating to fil like giving up!
Labels: problems in my life
Posted by inah at 1:47 AM

|

Sunday, April 27, 2008
tnx to those hu care to view my profile......
kip on viewing..
and oh..
plz do care to leave some comments..........
and link my blog aswell..
TNX!!
mhuawah!!
Labels: welcome evryone
Posted by inah at 12:53 AM

|

Friday, April 25, 2008

..
3rd day..
and my profile keeps on getting better!!
..
uwahahahahaha!!
..
damn!
..
im so good on editing!!
funny.. harhar!!
Labels: edited
Posted by inah at 4:53 PM

|

Thursday, April 24, 2008
.........wanna see more of my pics?
keep on

UPDATING

.........
.
" hir r my

muse

-basketball uniforms"
.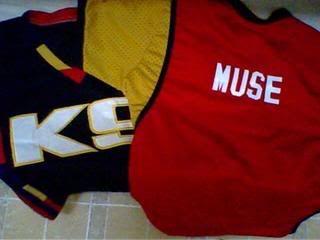 Labels: my lovely pics
Posted by inah at 11:36 PM

|